Optimal nutrition begins before conception.
Join us to find out how good nutrition for parents and babies can improve lifelong health.
Even before you were a twinkle in your father's eye, your future was being shaped by both your mum's and dad's health. During pregnancy, what your mum ate may have influenced how your metabolism worked. And once you were born, how you were fed may have impacted your development.
In this talk, our Liggins researchers Ben Albert, Gergely Toldi and Mariana Muelbert discuss how to optimise nutrition at each of these life stages. They look at nutritional interventions in pregnancy in the form of diet changes and supplements, the unique properties of breastmilk, and how breastfeeding supports the development of the immune system.
Join us for a fascinating evening and stay for drinks and nibbles afterwards if you can.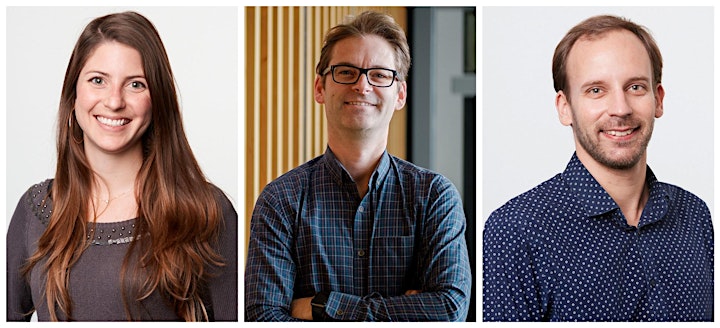 About the speakers
Dr Ben Albert
Dr Ben Albert (centre) is a Senior Research Fellow and Paediatric Endocrinologist providing care to children and young people with hormone disorders including diabetes. As a result of seeing increasing numbers of young people developing weight-related diseases he has focussed his research on finding new ways to prevent obesity and obesity-related disease. He believes that early life is a special window, where the right treatments could help to set children's health on a better path throughout their lives.
Dr Albert is also a part of the A Better Start National Science Challenge Team and is leading a study on the benefits of omega 3 supplementation to see if it could be of benefit in combatting childhood obesity.  Children of women who are overweight or obese during pregnancy are more likely to have problems with excess weight, high blood pressure, and diabetes later in life. The team will follow the children up to 3 years of age to examine their growth, development and metabolism. This detailed tracking of their growth will also allow researchers to look at how early life factors (such as the composition of breastmilk) influence growth and metabolism in early childhood.
Dr Gergely Toldi
Dr Gergely Toldi (right)is a senior lecturer in neonatology at the Liggins Institute. His research primarily focuses on early life development of the immune response and understanding the immunological background of complications affecting preterm and term neonates as well as pregnant women. In his clinical role, he works as a consultant neonatologist at Starship NICU.
Dr Mariana Muelbert
Dr Mariana Muelbert (left)is a Postdoctoral Fellow at the Liggins Institute, University of Auckland. She is a dietitian from Brazil and a New Zealand registered nutritionist passionate about nutrition and fascinated by human milk and lactation research. Her research focuses on maternal and infant nutrition, human milk composition and breastfeeding, particularly exploring the mechanisms by which human milk promotes lifelong health.
Date:  Wed, 16 Aug 2023 6:00 PM NZST
Location: The Liggins Institute

 Lecture Theatre 505-007 85 Park Road Auckland, Auckland 1023